Why Buy From Mark Miller Subaru?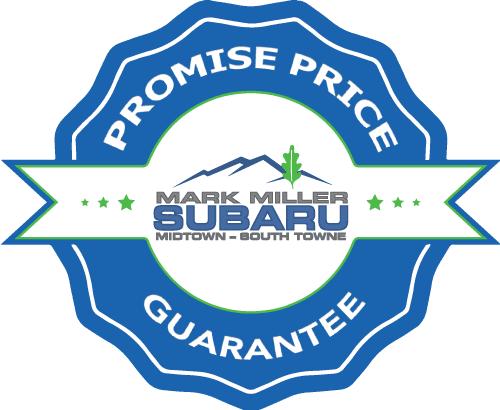 Mark Miller Subaru Promise Price!
A Better Car Buying Experience in Salt Lake City
When it comes to being part of the traditional dealership stigma, we're not afraid to do things differently. In true Subaru fashion, we're proud to take the path less traveled and offer true market, competitive pricing, on all our vehicles. Mark Miller Subaru's exclusive negotiation-free program is called "Promise Price." This means the payment we advertise is the actual price you'll pay on a car. All advertised Promise Price Lease Payments include Tax, Title, Licensing, and Fees!  Promise Price is just one of the ways our sales team is trained to find YOUR wants and needs and create a transparent car buying experience. We care more about creating lasting relationships than making a dollar.  On top of Promise Price, these are the principles that keep us on track to help our customers not only get into the car they want, but have a great time doing it and leave with a feeling of satisfaction and trust:
Watch this short video to learn more!
Top 12 Reasons to Buy Your Next Car at Mark Miller Subaru
I mean, there are dozens more – but we're really proud of these specific 12:
Because we're a local, family run business

Mark, his son Jeff, and their family own and operate Mark Miller Subaru in Utah! And for the past 45 years, Mark, Jeff, their family, and the 200+ individuals who work for Mark Miller Subaru have been proud to serve YOU – our friends who live in, love, and take pride in our beautiful state! Rest assured that Mark and Jeff wouldn't put their last name on the building if they didn't take pride in everything they do… This is evident in items 2-12 below! And as always, they'd love to meet you! Next time you're in our neck of the woods, please stop by and say hello! You can usually spot Mark or Jeff chatting with people near our on-site café! They'll even buy you a soda for taking the time to say hi!

Because we're revolutionizing the car industry

Why? Because we want people to enjoy their car buying experience! How? Through Mark Miller Subaru's exclusive Promise Price Program! Mark Miller Subaru brings you true market, competitive pricing on all of our vehicles without the needless hassle of negotiation. And more than that, our sales staff doesn't work on commission! SO you can feel confident they're committed to helping you drive away in the right vehicle for YOU, with a fun, exciting, and stress free experience. There aren't many dealerships who offer one-price programs like "Promise Price" – and we're proud to be revolutionizing the car industry!

Because you love your community

And so does Mark Miller Subaru! We like to do our part to make the world a better place – that's our 'Love Promise' to you and our community. In the past 20 years we've donated over $1,036,979.83 to charitable causes, and our employees have donated thousands of volunteer hours to service projects along the Wasatch Front. Some of non-profits we support include the Ronald McDonald House, the Humane Society, Hawkwatch International, the Children's Center, the Columbus Center, Utah Pride, Granite Education Foundation, Recycle Utah, Tree Utah, and so many more! We're always looking for new charities to support. Do you know one that we should partner with? Send them our way!

Because you want to share that love!

Share the Love is a nationwide Subaru event where dealers give back to local charities. In 2015 Mark Miller Subaru was recognized as Utah's "Largest Subaru Share The Love Contributor" because we raised ~$60,000 to build a playground for children undergoing therapy and to help offer much-needed medical services to the homeless. Now that, my friends, is sharing love!!

Because you want clean air and a beautiful landscape

We love breathing clean air as much as you do! That's why we started our Project Oxygen Initiative. For every car we sell we plant a tree right her in Utah. We're proud to be the only Subaru dealership in Utah that runs this program. It's a square one-for-one deal, in partnership with treeutah.org., simply because it's the right thing to do! Buy a car – plant a tree!

Because you love parking for free for driving green!

Cool, right? Mark Miller Subaru is proud of our Partial Zero Emissions (PZEV) product line because we know that a Subaru is an environmentally friendly alternative to gas-guzzling, smog producing cars and trucks. Simply put, PZEV means that our cars exceed stringent emissions standards established by city, county, and state governments! Oh, and to sweeten the deal, parking in downtown Salt Lake City is FREE for those with a low-emitting vehicle. Stop dealing with those pesky blue parking meters today – go Subaru, go PZEV!

Because you know that energy doesn't grow on trees…

…but it can come from the sun! Both Mark Miller Subaru dealership are partly powered by solar energy. We're reducing our carbon footprint one kilowatt at a time, and you can see our progress live on our online energy gauge! Oh, and did we mention we're the only solar powered Subaru dealer in Utah? We're really proud of that!

Because your family's safety comes first

You're a safe, attentive driver and abide by the rules of the road. You should have a vehicle to match. Subaru makes some of the safest cars on the road. A study by the Insurance Institute for Highway Safety found the Subaru Legacy to be the only midsize four-door sedan to have zero reported fatalities per one million registered vehicles. That's quite a Legacy indeed! (pun intended)

Because even Subaru of America thinks we're great

Mark Miller Subaru has consistently been recognized with the Subaru Stellar Care Award! Only exceptional Subaru dealers receive the award each year after meeting rigorous standards in many different areas. You can read the details here, but what it means to you is that the Mark Miller Subaru experience will be the best dealership experience you can get!

Because you care about Utah's fuzzy friends

Mark Miller Subaru has joined with the Wasatch Front Subaru Retailers group to host a weekly "Pet of the Week," spotlighting a furry friend that needs rescue. This collaborative partnership with the Humane Society of Utah helps these pets find their forever homes. We also host bi-annual pet chipping events where we foot the bill for the cost of over 200 animals getting microchipped. We work hard to help keep all animals, including your companion, safe!

Because you know that it feels good to do good

During our annual Do Good Feel Good Event, when you buy a vehicle from Mark Miller Subaru we donate $75 to your choice of one of our four selected charities. This has helped us raise over $350,000 for the community! After the event we celebrate with Community Day, where we give each charity a big check and give away a 3-year lease on a new Subaru! Have you ever won a car? Test your luck next spring during Do Good Feel Good!

Lastly – Because we're different from the other guys

How are we different? Because of our credo: the Principles of Love. We love our customers, we love our community, and we want to make sure you always love your experience at Mark Miller Subaru, whether you're buying a vehicle, selling, stopping by for service or accessories, or just stopping by to say hi to Mark or Jeff. Read more about our Principles of Love, and stop in to either Mark Miller Subaru location when you're ready for the car-buying experience you've always dreamed of!